Mr. Vijay Gurung is from Samtse, Bhutan, and holds a Masters degree in Computer Science from Bhathidasan University, Tiruchirapalli, Tamil Nadu, India. At present, he is pursuing a Masters in Business Administration (Human Resources) from Bharathier University, Tamil Nadu, India. After finishing his M.Sc IT, he worked for two years in Rigsum Institute of IT & Management in Thimphu as a principal and corporate trainer. Before joining RTC, he worked as an Associate Developer in Drupal, PHP, for about a year.
Mrs. Sonal Mehta comes from a hill station situated at Rajasthan- Gujarat boarder in India and did her schooling from highly reputed MGD school, Jaipur.  She was awarded a gold medal in M.Sc. Human Development from the Rajasthan University. Her post graduate dissertation focused on the issues pertaining to street children. She traversed a long distance from family owned jewellery business to a career in academics. She taught mathematics for about a decade at a middle secondary school in Kanglung, Bhutan.  In 2009, she joined the Royal Thimphu College as an Administrative officer for about four months and later as a faculty member. She teaches Statistics and Research Methodology. She has also undertaken some consultancy with Bhutan Postal Corporation and Department of Local Government. 
Ms. Shreejana Pradhan is from Samtse, Bhutan. She  completed her Under Graduation(Bachelors of Computer Application) and Post Graduation(Masters of Science in Computer Communication) from RVS College of arts and Science,affiliated to Bharathiar University,Tamilnadu India. She worked with bright Life Institute of Management, Thimphu as an IT Insturctor and then later she joined RTC as an IT Lecturer(Part-Time) for one semester(Spring, 2015). She has passion for Interior Decorations and did Interior Decoration at Fusion Events, Thimphu.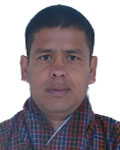 Mr. Hari Kumar Tiwari is from Dagana, Bhutan and he has a M.Sc. in Mathematics from Gandhi Institute of Biological Science, affiliated to Berhampur University Odisha (India) and B.Sc from Sherubtse College, Kanglung affiliated to Delhi University. He has 9 years of teaching experience in Higher Secondary School in Bhutan. Prior to Joining Royal Thimphu College, he served as Head of Mathematics and IT Department in Rinchen Higher Secondary, Thimphu. His interest lies in the teaching young people and helping the community.
Mr. Jigme Tashi is from Samdrup Jongkhar, Bhutan. He holds a Degree in BSc Physical Science from Sherubtse College (Affiliated to Delhi University). He worked for Kaltech Consultancy as an assistant surveyor before he went for masters. He completed his MSc in mathematics from Lovely Professional University, India. Besides teaching, he has a strong interest in playing football. He also plays guitar and read books during his free time.
Mr. Sonam Chophel is from Khoma, Lhuntse. He completed his Bachelor's Degree in Computer Science from Vellore Institution of Technology (VIT University), Tamil Nadu in 2007. For 2007 to 2012 he worked as an IT Officer for Royal Monetary Authority of Bhutan mainly in implementing Credit Bureau Application to collect Credit Related information from Financial Institutions. From 2013 onwards, he manages the overall IT operation of Credit Information Bureau of Bhutan Ltd. He is working as part time Faculty in RTC teaching Software Engineering II to CE Students.