Mr. Mehta is from Rajasthan, India, and has an MA in Economics from Rajasthan University. He is a NET (National Eligibility Test) qualified lecturer under the UGC and has taught undergraduate courses in Economics, mostly at Sherubtse College, Kanglung. Prior to joining RTC he was the Head of the Economics Department at Sherubtse College. He has been a member of the academic board, and developed the curriculum for BA (Hon) course in Economics. Professor Mehta has also worked as a UNDP lead consultant to develop Economic Development Policy of Bhutan 2010, MDG sub national repot 2013, MAF on youth unemployment in Bhutan and capacity assessment of UN one programme 2014-18. He was also involved in developing textbooks of Economics for class X, XI and XII for the Ministry of Education, Bhutan. He has carried out research on poverty, inequality, local government and FDI and his areas of interest include development economics, macroeconomics, globalization and research. He has also published a book titled "Nature and Structure of Bhutanese Economy".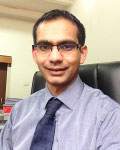 Dr. Samir Patel is an Indian-born US national from California, USA. He double-majored in Integrated Sciences & Biology as an undergraduate student at Northwestern University, USA, after completing an undergraduate honors project. He earned his Ph.D. from Stanford University, USA, in Biological Sciences (Cell Biology/Biochemistry). After three additional years of postdoctoral research at the University of California, Santa Cruz and San Francisco, he came to Bhutan in 2008 to serve as a Lecturer, first in Life Sciences at Sherubtse College in Eastern Bhutan, then at Royal Thimphu College in Thimphu, Bhutan since 2012 as an Associate Professor of Environmental Studies. He has been serving as the Associate Dean of Academic Affairs at RTC since 2013. He currently also advises the IT support department, and serves as the Interim Dean for the Development and External Relations Department.
Dr. Janet Schofield is American and her education includes three degrees from Harvard University: BA in Social Relations (1968), MA in Social Psychology (1970), and PhD in Social Psychology (1972). Her areas of specialization include Social Psychology, intergroup relations, use of computers for instruction, research methods, applied psychology and improving education at pre-college level. Dr. Schofield has served as a Professor of Psychology at University of Pittsburgh in the U.S. Her other roles have included: Visiting scholar in Germany; Policy research positions with U.S. government; Seminar leader for U. S. Senators; Consultant/advisor to U.S. local, state and federal agencies including the White House, U.S. Attorney General, Assistant Secretary of Education, and U.S. Office of Technology Assessment, as well as Singapore's National Institute of Education; Member of U.S. National Academy of Sciences Boards/committees. She has also been a recipient of awards for both teaching and research with research featured on radio and TV and used by the U.S. Supreme Court. Her personal interests include travel and volunteering service with a group providing educational after-school activities for children from poor urban areas.
Dolma Choden Roder grew up in Thimphu and Bumthang.  She earned a PhD and MA in Socio-cultural Anthropology from Arizona State University.  She also a BA (honors) in Anthropology from the University of Melbourne.  For five years she worked as the museum collections assistant for the Anthropology Collections as Arizona State University where she had the pleasure of training a number of undergraduate student workers and interns in collections management and material culture research. She has also taught sociology and anthropology at Sherubtse College. Her current research and teaching interests are gender, education, qualitative research methods, material culture and youth cultures. 
Dr. Leishipem Khamrang is from Manipur, India.  He holds Master Degrees in Geography from the University of Mumbai and Population Studies (MPS) from the International Institute for Population Sciences (IIPS), Mumbai. He has a Ph.D. in Geography from the University of Mumbai. He qualified NET/Lectureship in Geography and NET/JRF in Population Studies, conducted by University Grants Commission (UGC), India. Before joining RTC, he taught Environmental Studies at Chetana College, Bandra East, Mumbai for two years. He also worked at International Institute for population Sciences (IIPS), Mumbai as an Assistant Research officer (ARO) for two years.  His last position was Research Officer at the Centre for Development Studies, Tata Institute of Social Sciences (TISS), Mumbai. His areas of research interest are regional development, quality of life, urban development, development and regional conflict etc. 
Mr. Rabi is from Dorokha, Bhutan. He completed his Master's Degree in South Asian Studies from Pondicherry University, India and a Bachelors Degree in Economics and Enviromental Studies from Sherubtse College, Kanglung, Bhutan.  During his post graduation he successfully completed his research thesis on "Monarchy and Democracy in Bhutan, a comparative Study". He also worked in Rinchen Higher Secondary School as a History Teacher before joining RTC. His interest includes study of contemporary international relations, travelling, sports and music.   
Dr. Jelle J P Wouters holds an MPhil (Distinction) in Social Anthropology from the University of Oxford, and later completed a PhD in Anthropology from the North-Eastern Hill University in Shillong (India). Previously he taught Anthropology at Sikkim Central University (India) and for a year at the Eberhard Karls University (Germany) on a 'Teaching for excellence award' granted by the German Research Foundation. Some of his writings have appeared in Economic and Political Weekly, Asian Anthropology, the European Bulletin of Himalayan Research, and the Journal of the Anthropological Society of Oxford, as well as in several edited volumes. Over the past years he has carried out ethnographic and historical research in Northeast India, writing about social history, development, and political life worlds.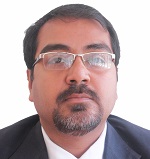 Mr. Sarbajeet Mukherjee is from Kolkata, India.He holds an Honours Degree in Political Science from St.Xavier's College, Calcutta, a Masters degree in Political Science from University of Calcutta, and an M.Phil degree in Political Science from EIILM Sikkim. He is currently working on his PhD thesis from the University of Peradeniya in Sri Lanka on security related issues. He has worked as a Research Assistant under Prof. Dr.Sanjay Seth, La Trobe University, Victoria, Australia. He has taught under graduate courses in Political Science under University of Calcutta, India, under Nagaland University in North East India. Prior to joining RTC, he has taught Political Science courses as well as Geopolitics and Sociology at Sherubtse College, Kanglung under the Royal University of Bhutan. There he has also worked as a Programme Leader for the BA Programme in Political Science at Sherubtse College.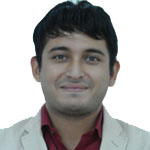 Mr. Saurav Chaliha is from the northeastern state of Assam in India and spent his school years at The Assam Valley School in Tezpur. A large part of his childhood was spent in various tea gardens across Assam, which turned him into a nature lover. He attained his bachelor's degree in History from St. Stephen's College under Delhi University. He also holds an MA degree in International Relations from Webster University where he studied at the Thailand campus. He has been involved in various teaching assignments in Thailand, Mongolia and, most recently, in Honduras (Central America). The love for travel, research and the desire to usher in progress through education has inspired him to relocate and work in countries that are still largely unexplored. Mr. Chaliha is joined by his fiancée, Lindsay Kamakahi, who is also working at RTC. His interests include travelling, cooking and watching football.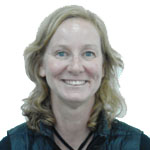 Ms. Leslie Backus is from Bend, Oregon USA. She has 25 years of experience conducting ArcGIS training courses, managing large GIS and database projects, and developing/managing complex research analyses. She graduated with both a Bachelor's and Master's degree in Biology at the University of Central Florida with a focus on spatially explicit mathematical models. Leslie has taught GIS/GPS in various international and domestic locations including multiple Universities and organizations in Sri Lanka, various projects in Kenya, Humboldt State overseas in Guatemala and for the Society for Conservation GIS at UC Davis/Berkeley/Riverside. Her expertise lies with building spatially explicit and predictive models for the development and analysis of various types of research projects.
Mr. Tshering Wangchuk is from Paro, Bhutan. He completed his graduation from Royal Thimphu College with BA in Political Science and Sociology and also holds a Master's Degree in Political Science. He have spent most of his schooling life away from home in boarding schools and had the opportunity to meet and make new friends. In those schooling phase he have also shouldered many responsibilities (Peer Helper, House Councilor, School Captain, Student Librarian, and Vice-President-ship) whereby providing him a closer understanding about the personal life of the students, a moment which he really cherishes. Besides his profession, Tshering is also interested in travelling, reading and community service.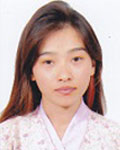 Tshering Lhamo Dukpa is from Tsirang Dzongkhag. She holds MA in Economics from Madras Christian College in Chennai, India and BA (honours) in Economics from St. Edmund's college under North Eastern Hill University in Shillong, India. She did her schooling from Dehradun, India. She has been teaching modules in Economics at Royal Thimphu College since August 2014. 
Mr. Tshewang Dorji graduated from Sherubtse College with a Bachelor's degree in Life Sciences. He has a Masters in Sustainable Development Practice (MDP) from the College of Natural Resources. His Master's thesis is on the impacts of climate change on rural farming communities (of four Gewogs under Dagana Dzongkhag) and their adaptation practices. He brings adequate field experience and theoretical knowledge to better understand, develop and implement integrated approaches to sustainable development challenges. Before joining RTC, he worked in Research and Hansard Division in the National Assembly whereby his main task was to conduct research and analysis works on legislation and policy issues related to whole range of the parliamentary functions. His other research interest includes environmental conservation, climate change, local government management and social protection. Besides teaching, Mr. Tshewang also enjoys travelling, reading and bird watching. 
Ms. Jamyang Pelmo is from Trashigang, eastern Bhutan. She holds a Master's Degree in Development Practice from College of Natural Resources, Lobesa and BA in English and Environmental Studies from Sherubtse College, Bhutan. Before joining RTC, she worked with Gasa Dzongkhag as the Project Manager. 
Mr. Kinley Dorji is from Pemagatshel, eastern Bhutan. He has Master of Science in Environment Management from Forest Research Institute (DEEMED) University in Dehradun, India. He graduated with a Bachelor's Degree in Sustainable Development from College of Natural Resources, Royal University of Bhutan. Besides teaching, his interest lies in reading, travelling, sports and community services.  
Roderick Wijunamai was an interdisciplinary researcher based in Mumbai. He holds a degree in English Literature from Manipur University and an MA in Development Studies from Tata Institute of Social Science, Mumbai. He qualified NET/Lectureship in Sociology conducted by University Grants Commission (UGC). Prior to joining RTC, he was working with Samvada Centre for Research and Resources, Oxford as a Consultant Researcher and Ecole Hôtelière at Lavasa as a Visiting Research Tutor. Roderick has been a part of various research projects undertaken in India and East Africa. His areas of interest include political economy, regional development, finance and social theory.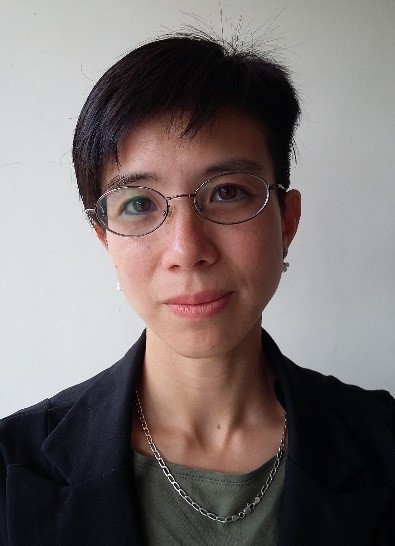 Bach-Lien Ngo grew up in Reunion Island. She holds a Master of Science from Purpan Engineering School (Toulouse, France) and is pursuing a Master 2 in Didactics of French language. She has been teaching French language and Environmental studies for 8 years. Before teaching, she worked as R&D representative in the agribusiness sector in France, as technical assistant for the Department of Livestock in Bhutan and as consultant on environmental projects. She loves sport especially roller skating, badminton and swimming.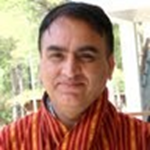 Professor G.P.Sharma hailing from Namgaychoeling, Samtse taught in College of Natural Resources (then NRT) for twenty years and joined the Royal Thimphu College from February 2010 onwards. He earned his Master's Degree on Environmental Studies from the University of Adelaide, Australia. He also obtained training certificates on Environmental Education from the University of Strathclyde, UK; Teaching Methodology from ILO, Italy; GIS from University of Stockholm, Sweden; Natural Resource Management from KODIS, Switzerland and Liechtenstein; Biodiversity Conservation from Ministry of Environment and Natural Resources, Sri Lanka; Teaching Methodology and Extension from BDM, Bangladesh and Human Value from India. He attended a number of workshops, seminars, exchange programme, and congress in Bhutan as well as overseas. He is a nature lover and fond of reading, gardening, beekeeping, and visiting religious places.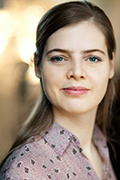 Mareike Wulff is from Berlin, Germany and currently working on her PhD thesis at the Institute of Asian and African Studies at Humboldt-University Berlin. She writes about a Buddhist mask dance festival in a village community in central Bhutan. Originally trained as a bespoke tailor and graduate from the University of Arts in Berlin/Germany in Costume Design (Distinction), she first came into contact with the studies of Himalayan cultures when she conducted 1.5 years of field research in India and Nepal for her M.A. thesis in 2006/2007. Her research focus were the masks and costumes of Cham ritual performances in the monasteries of the Indian Himalayas (Ladakh/Zanskar) and in several Tibetan Exile communities. Back home, she gathered practical working experience in Costume departments of well-renowned Opera Houses (Zurich Opera House/Switzerland, German Opera Berlin)..
She was awarded scholarships for her research in the Indian Himalayas and for her PhD by the Berlin state government (NaFög) as well as German Academic Exchange Service (DAAD).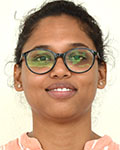 Rajitha Sanaka hails from Hyderabad city in South India. Prior to teaching at RTC, she worked as a news reporter with a leading National English daily; The New Indian Express in Hyderabad. She has a Master's degree in Communication from the University of Hyderabad, where she specialized in Print and New Media. Adept with different media platforms, her work as a journalist included stories on gender, human rights, social welfare and also food, culture, travel and people. Her work on subjects of child and human rights has been awarded by the UNICEF and the UNFPA. Apart from storytelling, she is passionate about food, travel, and people and is a mental health advocate.
Originating from West Bengal, Mr. Rudrarup Mukherjee completed MA and M.Phil in Economics from Rabindra Bharati University, Calcutta, India. He has been awarded with the UGC NET for Lectureship and West Bengal SET for Assistant Professor and Librarian in Economics. He carries an experience in teaching in both UG and PG levels for more than 10 years. Besides teaching, he is interested in Literature, travelling and photography, especially nature and wildlife photography.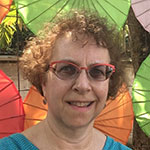 Ms. Rachele Kanigel from the United States, is a faculty in the Mass Communication programme for the Spring Semester, 2019. She is a professor of journalism at San Francisco State University, where she studied as an undergraduate, and holds a master's degree in journalism from Columbia University. Before starting to teach she was a daily newspaper reporter and has freelanced for magazines and websites. Her work has appeared in TIME Magazine, U.S. News & World Report, San Francisco Magazine, Reader's Digest and other publications. She is the author of The Diversity Style Guide and The Student Newspaper Survival Guide. She has led journalism study-abroad programs in Italy, France, and Israel with the Institute for Education in International Media (ieiMedia). She is interested in media entrepreneurship, diversity issues in journalism, student publications, and media ethics.
Ms. Jaja is from the northeastern state of Manipur. She did her schooling from the hill station town of Kalimpong. Currently, she is teaching in the Political Science and Sociology department. She is also pursuing her PhD in Social Sciences from the Tata Institute of Social Sciences, Mumbai. Her PhD thesis focuses on gender and migration, specifically looking at women from the northeastern state of Manipur employed in the service and hospitality sector in Delhi. She has a bachelor's degree in English Literature from Hindu College, University of Delhi. Her Masters in Social Work from the Tata Institute of Social Sciences, Mumbai. She has qualified the UGC-NET Lectureship conducted by the University Grants Commission. Ms. Kipgen was also awarded the Erasmus Mundus PhD exchange scholarship. She has also presented her research papers at various international conferences and published some of her research work as book chapters and research articles. Her area of interests are gender, race, migration studies, women and labour. Apart from academics, she enjoys traveling to new places, learning and experiencing new cultures, reading, and writing.