RTC Exchange Programmes 2017 with SEISA (Japan, Nov 2017 and Jan/Feb 2018), Wheaton (USA, Spring 2018)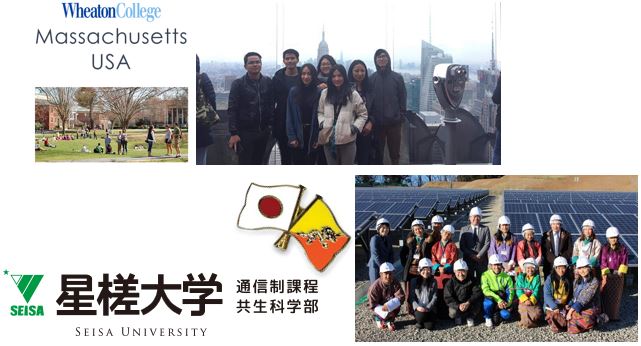 Now open for applications until October 18, 2017 - 5pm
As a conscious effort on the part of RTC to promote global-level learning and to build the intercultural capabilities of our students, RTC will be sending up to 2 students to SEISA (Japan, Nov 2017), 10 students to SEISA (Japan, Jan/Feb 2018); 5 students to Wheaton (USA, March-end to early April 2018 on academic and cultural exchange programmes. These programmes will be immensely useful for students to further their personal and academic development as well as distinguishing themselves in the job market after graduation.
As a special additional exchange program this year, 2 RTC students are invited to represent Bhutan at the 2017 SEISA Africa-Asia Bridge festival (Nov 11-12), an event with over 30 countries represented, and explore Yokohama City and other locales with SEISA University. The RTC participants are expected to prepare appropriately to share Bhutanese culture at this international festival.
Regular full time students with minimum 60% average overall marks to date are eligible to apply for the SEISA and Wheaton Programmes. Upper year students marks will be based on completed semesters; 1styear applicants should report their marks through the midterm of this semester. Applicants will be short-listed on the basis of academic marks and attendance, leadership, social services, extra co-curricular activities, and international participation.
Interested students can submit their application form together with other supporting documents to the Student Services Office or International Relations Office by 5 PM on Wednesday, October 18, 2017.  For any further enquires or assistance, please contact the Assistant International Relations Officer, Mr. Ugyen Tashi Dorji at email: This email address is being protected from spambots. You need JavaScript enabled to view it. or Mobile: 17770025 or the Assistant Student Services Officer, Mr. Tashi Wangdi at email: This email address is being protected from spambots. You need JavaScript enabled to view it. or Mobile: 17743924.
Application forms are available for download at my.rtc.bt or at the Administration building reception desk. READ THE GUIDELINES COMPLETELY BEFORE APPLYING.