Bachelor of Commerce (BCom) and Bachelor of Business Administration (BBA)
Accounting | Finance | General Management | Marketing | Human Resources Management
Find out what a practical and real-world focused education can do for you! Apply now. International students: contact This email address is being protected from spambots. You need JavaScript enabled to view it..
Degree certificates aren't all the same -- RTC is good for business, with experience you can trust: BBA and BCom have been offered at RTC since 2009 and recently updated with increased empasis on continuous practical skills development.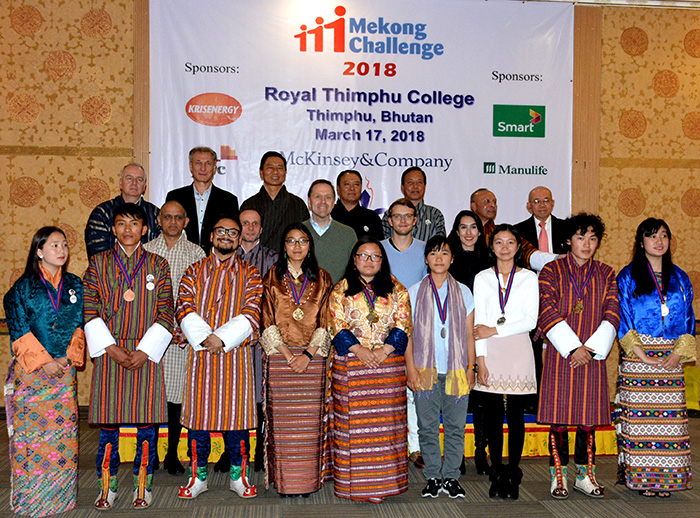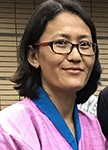 "A student-centered teaching-learning approach is the focus of learning at the Royal Thimphu College, where students will have the opportunity to develop and foster the basic skills necessary for entering the real business world. Students are assessed through various modes of assessment for active student-centered learning, and these requirements will encourage the students to be self-disciplined learners who can be capable of adapting to the needs of the environment."
- Tshering Pemo, Programme Leader for BCom and BBA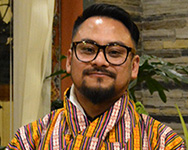 "The business programmes at RTC ensure that students get personalized attention. I have been with RTC for over eight years, and have witness amazing transformations in students, as reflected in their outstanding academic performance, personal growth, and in their careers after their graduation. I have seen students who would have been 'average' or 'below average' performers as per their class 12 results become rank holders in the RCSE exam after their degree studies. At RTC, we care for your education and future. We commit to help students realize their potential and prepare them for the future. Even for myself, I wonder, if I was a student of RTC, I would have been a different person today!
- Madhav Verma, Asst. Programme Leader for BCom and BBA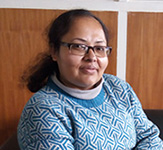 "Business studies at RTC are unique because we train our students how to connect theory with reality -- how to apply the concepts taught in class to real life situations. Students also get the opportunity to go for company visits, and compete in various national and international competitions. We do not restrict our students to just classroom lectures. Rather, we ensure that they develop all the necessary skills required to help them succeed in all their future endeavors; be it for their higher studies, their jobs, or starting their own businesses."
- Dr. Swati Chakraborty, Sr. Lecturer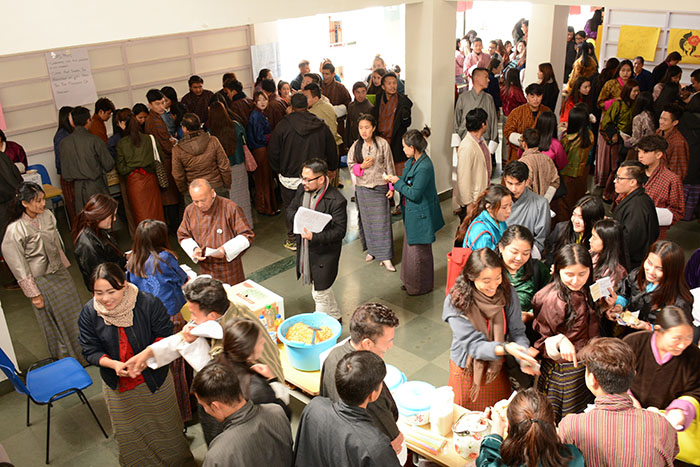 Experience
RTC faculty not only have the required educational qualifications (min. Master's), but many have also worked in industry as Entrepreneurs, General Managers, and Corporate Executives.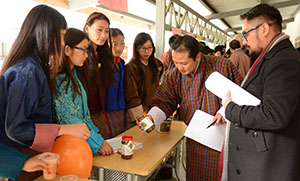 Location
Because of the proximity to most of the financial institutions, corporations, and business houses, we are able to invite and engage CEOs, other officials, and entrepreneurs for various relevant modules as guest lecturers. Most students are also able to intern in Thimphu during their holidays and do real-world projects with a variety of organizations.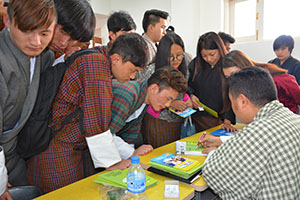 Practical Opportunities for Personal and Professional Growth
RTC students participate in business competitions and start-up weekends, and opportunities to gain work experience in on-campus jobs and student-run businesses. Student teams from RTC have had consecutive medal-winning successes since 2016 in the regional Mekong Business Challenge -- an RTC team earned the gold medal at the 2018 competition held in Bhutan, along with an opportunity to represent the entire region in the International finals held in the USA. The Business programme faculty provide mentoring for all aspiring competitors in these activites to ensure that the students succeed.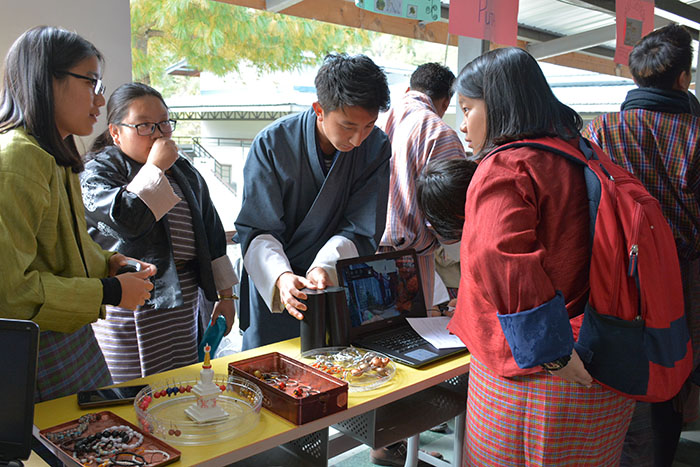 BBA and BCom at RTC
Business students at RTC initially enter into the Business Foundations programme for a year without pre-selecting either the BBA or BCom course. After the first year, depending on the major they placed in (Accounting, Finance, Marketing, Human Resources, General Management), students will continue in the second and third year as either BBA or BCom Students. The total duration of the business programmes at RTC is three years.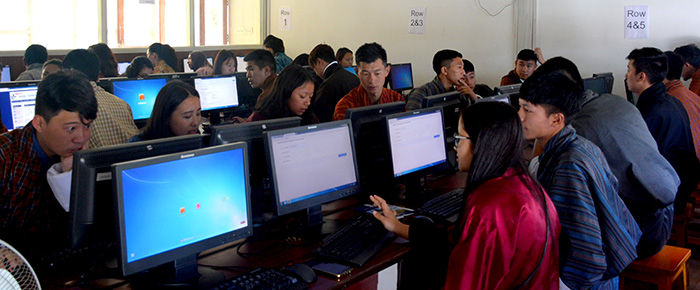 Business Foundations 
The first two semesters (1 year) will comprise a common foundation year for both BBA and BCom. The foundation year will prepare students for either course by providing them with necessary skills in IT, language, quantitative analysis, and by introducing them to basic functional knowledge, skills, and theoretical foundations of business. At the end of the first year, students have the opportunity to submit their preferences for whether they want to continue with General Management, Marketing, or Human Resources Management majors (in which case they become BBA students) or with either the Accounting or Finance majors (in which case they become BCom students), for the remaining two years. Students will be placed in majors based on preference and availability of slots -- not all majors will be offered every year.
Business Foundations Curriculum Map
BBA and BCom Programmes – Common Foundation Year

Yr

Sem

Modules

1

I

MGT101

Introduction to the Business Environment

ACT101

Financial Accounting

BLT101

Legal Considerations in Business

BIM101

Introduction to Computers and Business Applications

LAN101

Grammar, Vocabulary and Phonology in context

II

BMS101

Business Mathematics

MGT102

Management Theory and Practices

ECO101

Microeconomics

DZG101

Dzongkha Communication

ACS101

Academic Skills
Bachelor of Business Administration (BBA)
The BBA Programme aims to create graduates with high business acumen with major focus in the areas of general management, human resources management, and marketing. The core focus of the programme is on behavioural and managerial aspects, wherein students will be provided a grounded business education to deal effectively with people in organizations. Students will be provided opportunities to develop skills related to presentations, communications, IT, analytical thinking, interpersonal relations, and design of marketing and human resource strategies. The objective of the programme is to provide a strong foundation in business education with theoretical knowledge and practical skills. The programme offers six major modules that will enable students to delve deeper into the area of their specialization, making them highly competitive in the job market. Further, the knowledge and skills gained from the programme will help students to pursue higher studies.
Programme Structure
BBA (General Management / Human Resources Management / Marketing)

Yr

Sem

Modules

2

III

BIM202

Management Information System

BLT202

Financial and Business Tax Management

ANS101

Analytical Skills

ECO202

Macroeconomics

1st Major Module

IV

MGT203

Growth and Change in Business

BMS202

Statistics for Solving Business Problems

HRM202

Organizational Behaviour and Culture

MGT204

Motivation and Control Systems

2nd

 Major Module

3

V

MGT305

Fundamentals of Corporate Governance

MGT306

Managing Business-Government Relations

RES301

Research Methods in Business

3rd Major Module
4th Major Module

VI

MGT309

Competitive Advantage: Strategic Management

HRM305

Negotiation Skills

RES302

Business Project

5th Major Module
6th Major Module
Majors
Sem

Major Modules

General Management

Human Resources Management

Marketing

III

1st Major Module

EDP201

Theory and Practice of Entrepreneurship

HRM201

Fundamentals of Human Resource Management

MKT201

Principles of Marketing

IV

2nd Major Module

HOS201

Hospitality Management

HRM203

Recruitment and Retention

MKT202

Consumer Behaviour

V

3rd Major Module

EDP302

Building a Start-up

HRM304

Compensation

MKT303

Sales Management

V

4th Major Module

MGT308

Integration of Business Functions

HRM306

Leadership and Management Development

MKT304

Product and Services Promotion

VI

5th Major Module

EDP303

Fostering Innovation in Business

HRM307

Industrial Relations

MKT305

International Marketing

VI

6th Major Module

BIM303

General Management Approaches to E-Commerce

HRM308

International Human Resource Management

MKT306

Retail and Distribution Management
Bachelor of Commerce (BCom)
The BCom programme aims at equipping graduates with the knowledge and technical skills that are necessary to understand and participate in the modern business world, with orientation in the two key functional areas of Accounting and Finance. It also offers emphasis on the development of soft skills that are essential for effective delivery of personal and professional duties in the community and organizations. The programme draws its themes and inspiration from the past and current industries and human resource development needs in both domestic and international markets. With the expanded depth and options for majors in Accounting and Finance, the programme also prepares students for subsequent graduate studies. Further, it allows students to achieve the highest level of success in their professional careers. BCom graduates will acquire adequate knowledge and skills required to pursue and practice professional qualifications such as Chartered Accountant, Chartered Management Accountant, Chartered Financial Analyst, Cost and Management Accountant, Certified Public Accountant, etc.
Programme Structure
BCom Programme (Accounting / Finance)

Yr

Sem

Modules

2

III

FIN201

Fundamentals of Corporate Finance

ECO202

Macroeconomics

BMS202

Statistics for Solving Business Problems

1st Major Module

ANS101

Analytical Skills

IV

ACT203

Cost Accounting

BLT203

Taxation Law and Practice

HRM202

Organizational Behaviour and Culture

2nd Major Module

BLT204

Corporate Law

3

V

BMS303

Mathematics for Managerial Decisions

MGT307

Strategic Management

RES301

Research Methods in Business

3rd Major Module
4th Major Module

VI

MGT305

Fundamentals of Corporate Governance

RES302

Research Project

IBS301

International Business

5th Major Module
6th Major Module
Majors
Sem

Required Major Modules

Accounting

Finance

III

1st Major Module

ACT202

Intermediate Financial Accounting

FIN202

Financial Markets and Services

IV

2nd  Major Module

ACT204

Corporate Reporting I

FIN203

Working Capital Management

V

3rd Major Module

ACT305

Management Accounting I

FIN304

Capital Budgeting

V

4th Major Module

ACT306

Corporate Reporting II

FIN305

Financial Risk Management

VI

5th Major Module

ACT307

Audit and Assurance

FIN306

Investment Analysis and Portfolio Management

VI

6th Major Module

ACT308

Management Accounting II/

ACT309

Public Sector Accounting

FIN307

Banking Concepts and Practice