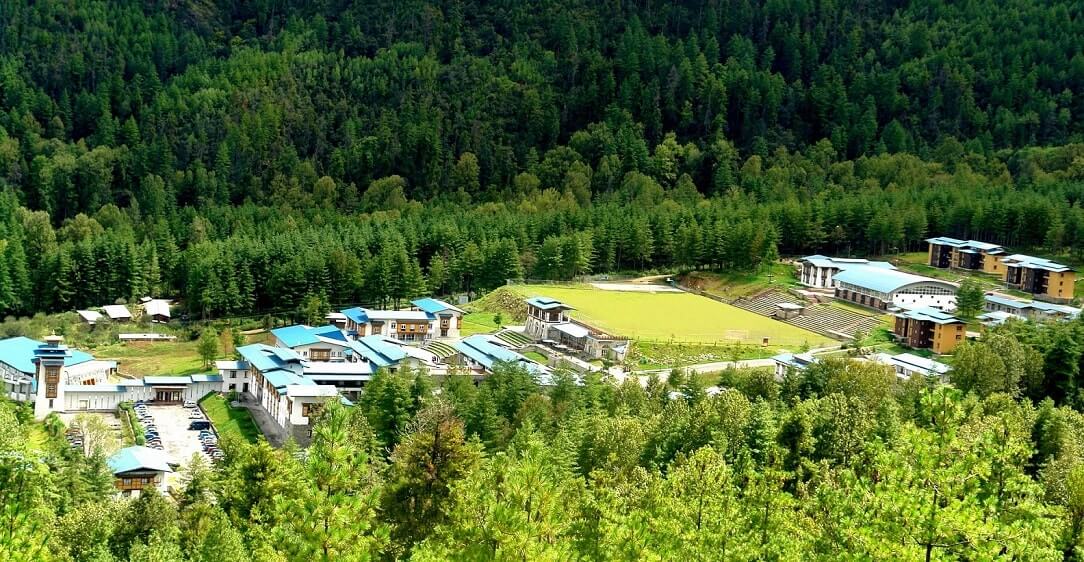 Are you seeking to stay engaged and learn something new?
These are uncertain times for all of us and more so for the Bhutanese students studying abroad who have returned to Bhutan due to the COVID-19 pandemic and may not be able to go back soon. Royal Thimphu College welcomes you to continue your studies locally with RTC starting from August, 2021 on a temporary or permanent basis at local tuition rates.
We offer a wide range of undergraduate interdisciplinary programmes, with equally diverse faculty members from around the world. You can choose to continue with your electives or learn something new.
In areas of sufficient demand, RTC can also facilitate specific tailor-made courses within our areas of subject expertise to meet international requirements. RTC will help liaise with your home university for fulfilling credit transfer requirements.
Students may also consider joining on a permanent basis (enroll as a transfer student to RTC towards a degree award). Our offices will guide you through the mapping of your prior credits onto the matching RTC programmes.
Your education should not have to stop due to the global pandemic - Come learn and be inspired at RTC!
Interested individuals may complete the expression of interest form.
For further details on semester-at-home admission or credit transfer-related inquiries, please write to us at This email address is being protected from spambots. You need JavaScript enabled to view it..
Some of the subjects you can study include:
| | | | | |
| --- | --- | --- | --- | --- |
| Module name | Programme | Year | Tutor | General Objectives of the Module |
| Political Anthropology | BA Anthropology | 2 | Dr Jelle Wouters | This module examines politics, political organization and questions of power through anthropological perspectives and in a wide range of societies, both past and present. It explores the origins and scope of political anthropology and discusses how anthropologists analyse power and political life. The module also discusses how political organization of societies evolved throughout human history and discusses the use of anthropological knowledge and methods to engage modern political themes such as civil society, citizenship, nationalism, and democracy |
| Anthropology of the Himalayas | BA Anthropology | 3 | Dr Joseph Mark Mcclellan | The module aims to allow students to explore the Buddhist Himalayas (Tibet, Bhutan, Nepal and India) using anthropological writing about the region. By learning about and discussing regional trends, shifts and differences, students will be able to imagine how Bhutan fits into the regional designation of the Himalayas. |
| Social Psychology | BA Pol-Soc | 3 | Ms Jaja Kipgen | This module explores relationship between the individual and society to understand and predict human behaviour. It will explore how our thinking (social cognition) drive our behaviour, how people around us (social forces) influence our behaviour and how we relate to one another. Finally, the module will look at applying social psychology's principles and findings to practical context for sustainable living and happiness. |
| Contemporary World Politics | BA Pol-Soc | 3 | Ms. Nipunika Oshadhie Lecamwasam | This module follows the subject on World Political History (PS 301) that studies world politics from the late Middle/Medieval Ages until World War II. Contemporary World Politics starts from the Second World War. It explores the structure of the previous and current world order. The module aims at identifying long term tendencies by exploring cyclical movements in world history and examining the extent to which these provide valid frames of reference. It aims to analyze connections, interactions – and discontinuities – between the political, economic, military, and ideological factor and how these forces influence, reinforce, or contradict one another. The module also intends to develop students' capacity to analyze and predict future trends in world politics. |
| Geographic Information System 1 | BSC Env Mgt | 2 | Dr Samir Patel | This module will introduce students to the fundamental concepts of Geographic Information Sciences and Technology (GIST) including Geographic Information Systems (GIS), Global Positioning Systems (GPS), cartography, remote sensing, and spatial analysis. It will also explore how geospatial technologies are used in addressing human and environmental issues. It should prepare students for more advanced topics in geospatial analysis. The module is based on GeoTech Center's model introductory courses on geospatial technologies. The module does not assume any GIS or geography background as a prerequisite. |
| Classical Greek Drama to the Theater of Ideas | BA English Studies | 2 | Prof Sonam Deki | This module aims to introduce students to different genres of drama such as Classic Greek tragedy, Shakespearean tragedy and the Theatre of Ideas. The module will require an in-depth reading of the prescribed texts in order to enable students to appreciate the nuances of the social contexts the plays were written in, and the various interpretations the texts generate. |
| Sonnet to Song: Understanding Poetry | BA English Studies | 3 | Dr Uttara Bisht | This module aims to introduce students to different forms of poetry across the ages such as sonnets, epics, mock epics, metaphysical poems, odes, elegies, war poems, and haiku. Students will learn to identify the structure, rhyme scheme, rhythm and subject matter of the different poems that they read. The module offers poems belonging to the same sub-genre by poets from different eras so that students can enjoy and appreciate the timelessness of these modes of personal expressions. |
| Intermediate Macroeconomics | BA Dev Economics | 2 | Prof Sanjeev Mehta | This module introduces formal and more advanced macroeconomics with analytical tools. It aims to equip students with the basic tools of short, medium and long-term macroeconomic analysis, both in autarchic and open economy frameworks. It aims to foster greater understanding of the processes, systems and institutions of that affect macroeconomic policies. |
| Strategic Management | BCom | 3 | Dip Raj Pradhan | This module will provide students with knowledge that will enable them to understand how to develop strategies in the Asian markets with a focus on Bhutan. It gives an overview of all essential aspects of strategic management: strategy analysis (internal and external), formulation of strategies at different levels of the organization, and strategy implementation. The module will also reflect on the strategic purpose of organizations, and their role towards shareholders, stakeholders and society in general. The intention is to provide students with strategy insights, with particular reference to Asian firms; reflect on strategic dilemmas; and practice strategy tools to enable students to become confident and creative strategic thinkers. Students will have an opportunity to apply their academic study to work based or case study problems. |
| Fundamentals of Corporate Governance | BBA | 3 | Dr Swati Chakaraborty | The objective of the module is to introduce students to corporate governance principles in real business scenario. Upon understanding global and country practices in the corporate world, students will be able to examine and critically analyse the roles of corporate governance in business setting. |
| Digital Graphics Lab | BA Mass Communications | 2 | Jigme Gyeltshen | With media content now produced almost exclusively digitally, this module provides students with the necessary exposure to digital graphics. The module will take students beyond the theories and practices initially covered in the Photography and Visuals Lab module to demonstrate how images are represented in the digital realm as raster (bitmap) or vector graphics for effective communication. While the Photography and Visuals Lab module teaches students to take photographs thoughtfully and skilfully, the Digital Graphics Lab module covers image editing and enhancement that occurs in post-processing. The module also introduces more sophisticated digital image compositing principles, techniques and software tools to enhance photographs, edit existing graphics, and create their own graphics for use in a variety of mediums. |
| Statistics for Solving Business Problems | BCom | 2 | Jigme Tashi | This module aims to develop students' competence in applying statistical techniques in everyday life. Students will be able to collect information, summarize data and analyse quantitative information for decision making in business using statistical tools and techniques. |
| Development Process and Institutions | 3 | 3 | Rudrarup Mukherjee | This module covers a theoretical/conceptual framework of development processes and institutions. It examines mutually reinforcing processes and institutions that affect human choices, and the effectiveness of development interventions. The module aims to develop analytical tools that help to understand the roles of demographic processes, market structures, social and economic institutions that affect economic development. |
| Bhutanese Economy I | BA Development Economics | 3 | Tshering Lhamo Dukpa | This module aims to provide an overview of the pattern of economic growth and accompanying structural changes in the Bhutanese economy during the periods of planned economic development. The focus of this module is on the analysis of inter-temporal changes in the major macroeconomic variables since 1961. This module will strengthen the ability of students to evaluate the role of development planning in Bhutan. |