September 28 – October 3, 2022
(Workshops will be from 9 am – 4 pm approx. on the indicated days)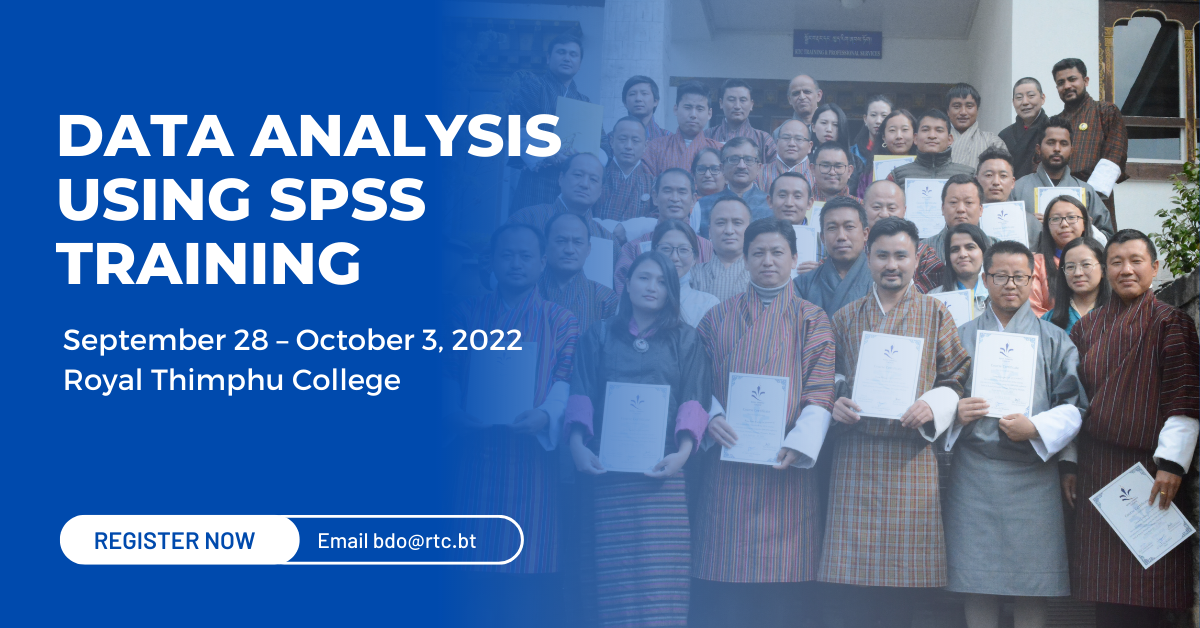 Register online. E-mail This email address is being protected from spambots. You need JavaScript enabled to view it. for additional details.
Royal Thimphu College (RTC) will offer an introductory training workshop on using the IBM SPSS software from September 28 - October 3, 2022, at the RTC campus, Thimphu.
SPSS is one of the most popular statistical software packages, used for conducting complex statistical data analysis by different disciplines in Social sciences, Business, Healthcare, Education, and others. The workshop will introduce the fundamentals of SPSS and related features, in particular how to code raw data of a new dataset, perform quantitative analysis, interpret, and report the results. You will augment your ability to review and apply a relevant statistical tool. The format of the workshop is instructor-led, with hands-on practice on a set of pre-prepared exercises. The workshop is designed to provide comprehensive training on data management. At the end of the workshop, you will be able to:
Use the IBM SPSS software package to set up a database, enter data, create and manipulate variables, analyse data using the most appropriate tests.
Differentiate between the various types of data.
Report data summaries using the most appropriate approach.
Identify differences between various statistical techniques, apply them, and justify the choice of technique.
Apply the concept of a statistical hypothesis test and interpret the results with respect to the related effect size, confidence interval, and P value.
Choose between and apply different statistical techniques to analyse data.
Present quantitative research findings appropriately.
Trainer: Professor Sanjeev Mehta, Department of Economics
Assoc. Professor Sonal Mehta, Statistics and Research Methodology
Seats are limited. Course fee: Nu. 10,500. Last registration deadline by September 26, 2022.
Content of the workshop
Day

9:00 AM- 12:00PM

(Lecture and presentations)

1:00 - 4:00 PM

(Lab Work)

1

Introduction to SPSS: basic introduction, entering data, importing data, data editing, sorting, defining variables, computing and transforming variables, working with dates

Individual exercises

2

Descriptive statistics: frequency distribution, cross-tabulation, graphical presentation of data

Individual exercises

3

Descriptive statistics: measures of central tendencies, measures of dispersion, comparing means,

Individual exercises

4

Inferential statistics: T-test, ANOVA, Chi-square test

Individual exercises

5

Inferential statistics: correlation, OLS regression, binary regression, diagnostic tests, time series analysis

Individual exercises, Valedictory session
10:45 AM - 11:00 AM - Tea Break
12 PM - 1 PM - Lunch Break