Introduction to Geographic Information System with ArcGIS
Training at Royal Thimphu College
September 28 – October 03, 2022
(Workshops will be from 9am – 4:00pm approx. on the indicated days)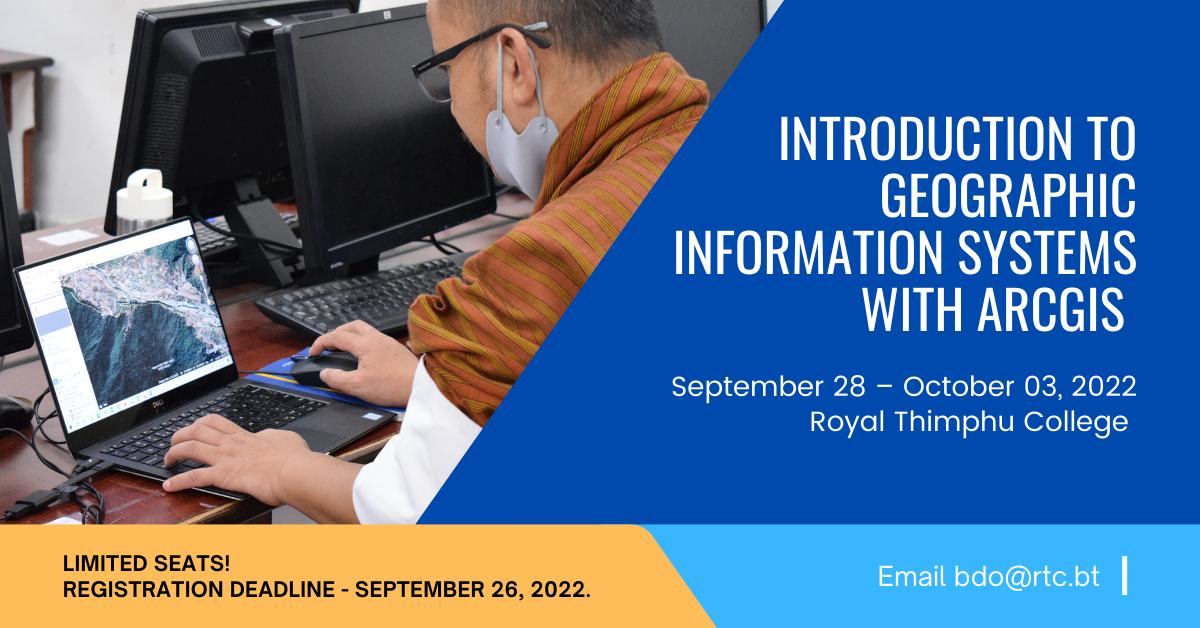 Register online. E-mail This email address is being protected from spambots. You need JavaScript enabled to view it. for additional details.
Royal Thimphu College (RTC) will offer an introductory ArcGIS training workshop from September 28 – October 03, 2022, at the RTC campus, Thimphu.
This course introduces participants to the fundamental ideas of Geographic Information System (GIS) including concepts and basic skills, cartography, reports and graphs, geoprocessing tools, and spatial analysis. It prepares participants for more advanced topics in geospatial analysis. This course is based on real projects, with an emphasis on the skills needed to successfully and efficiently complete your projects. The course will work with local data where applicable to demonstrate how these skills can be applied. The course does not assume any GIS or geography background as a prerequisite.

Trainer: Ms. Pema Eden, GISciences Lecturer and Trainer
Seats are limited. Course fee: Nu. 7,500 (Registration by September 26); Nu. 9,000 (Registration after September 26).