Basic Image Processing using Photoshop
Training at Royal Thimphu College
September 28 – October 03, 2022
(Training will be from 9 am – 4 pm approx. on the indicated days)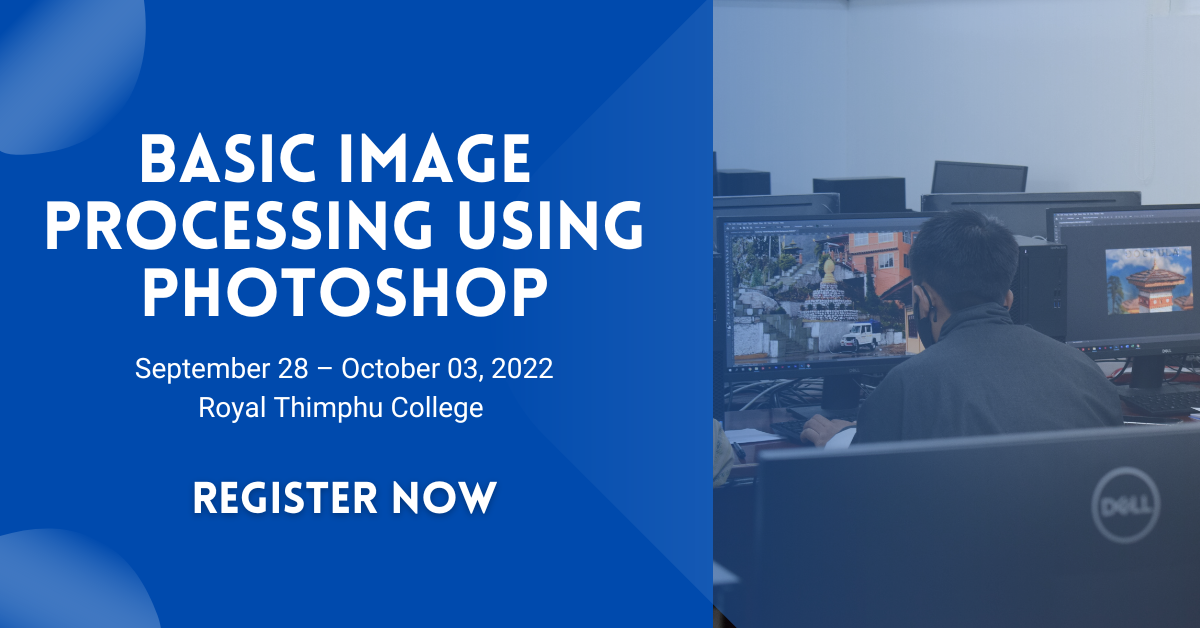 Register online. E-mail This email address is being protected from spambots. You need JavaScript enabled to view it. for additional details.
Royal Thimphu College (RTC) is pleased to offer a short-term training programme on 'Basic Image Processing using Photoshop' from September 28 - October 03, 2022, at the RTC campus, Thimphu.
This training introduces participants to basic image processing using Photoshop and covers image editing techniques as well as enhancements that occur in image post-production. It also introduces more sophisticated digital image compositing principles, techniques and software tools to enhance photographs for commercial/formal and artistic/informal purposes.
1. Learn to use Photoshop tools and techniques to enhance or restore images.
2. Understand how images are represented digitally and how they are manipulated.
3. Learn basic digital compositing for commercial/formal and artistic/informal purposes.
Topics include:
Understand Photoshop Workspace
Standard Terminology
What spatial resolutions, bit depth, pixels, components, and channels are
How to enhance subject focus
What color-correcting and color grading are and how to apply them
How to apply basic image enhancements
How layers work and how to use them
How to apply blur and other filters to images
How to use the pen, brush & selection tools
How to retouch images
How to repair images
How to create and use masks or matte images
Basic digital compositing
How to save/export final images
Common file formats for digital images and their differences and uses
Take your photography to the next level by learning to edit, enhance, and composite images digitally using Adobe Photoshop, the world's most popular photo editing software.
Trainer: Associate Lecturer Jigme Gyeltshen, Mass Communication Department
Seats are limited. Course fee: Nu. 7,500 (Registration by September 26); Nu. 9,000 (Registration after September 26).