Training on Organizational Capacity Gap Assessment
Royal Thimphu College
October 10 – 14, 2022
(Training will be from 6 pm – 9 pm approx. on the indicated days)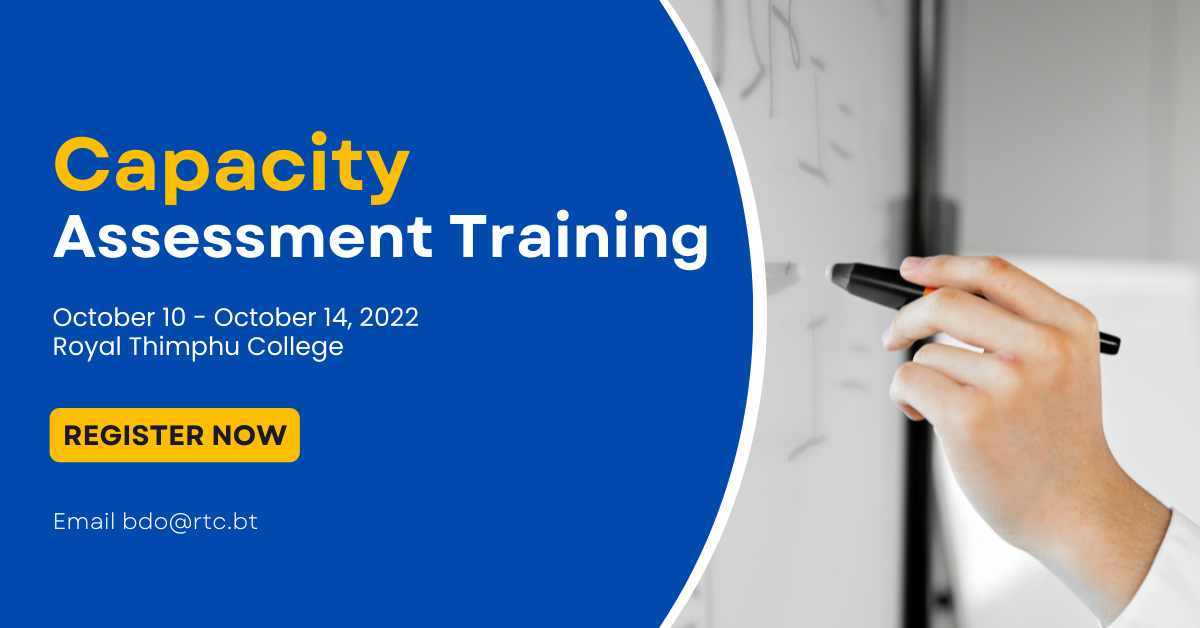 Register online. E-mail This email address is being protected from spambots. You need JavaScript enabled to view it. for additional details.
Royal Thimphu College is announcing to offer an evening Training on the Capacity Assessment from October 10 - 14, 2022 at the RTC campus, Thimphu.
The achievement of organizational goals and targets critically depends on the capacities of individuals, organizations, and societies to transform. Financial resources alone are not enough to achieve goals. Without supportive rules, policies, strategies, procedures, well-functioning systems, and educated and skilled people, organizations lack the foundation to plan, implement and review growth strategies. Capacity development helps to strengthen this foundation. To support this process effectively, we need to identify what key capacities already exist and what additional capacities may be needed to reach these objectives. This is the purpose of a capacity assessment. A capacity assessment is an analysis of desired capacities against existing capacities which generates an understanding of capacity assets and needs that informs the formulation of a capacity development response. Methodology for conducting capacity assessments that is systematic and rigorous, yet flexible and adaptable to different contexts and needs. At the end of the workshop, the participants will be able to independently conduct a capacity assessment exercise, analyze and present the information
Trainer: Professor Sanjeev Mehta, Department of Economics
Seats are limited. Course fee: Nu. 7,000. Registration deadline by October 01, 2022.