PhD Scholarship in Climate Studies at the College of Natural Resources in collaboration with the Himalayan Centre for Environmental Humanities, Royal Thimphu College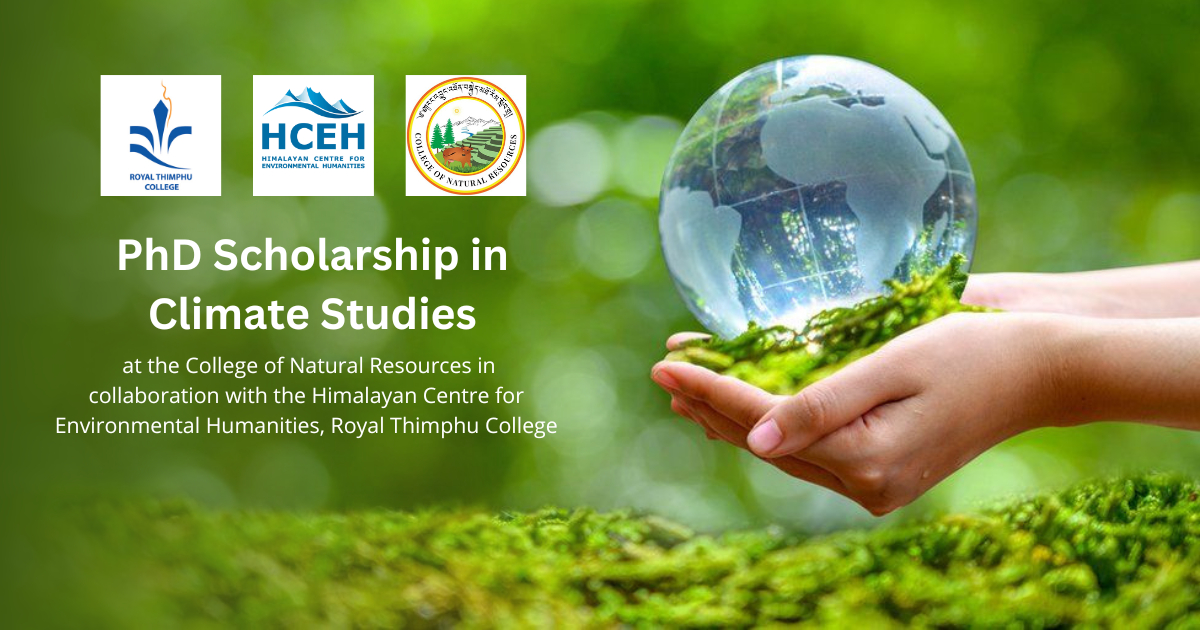 General Objective (CNR):
The Doctor of Philosophy (PhD) in Climate Studies at CNR aims to develop professionals who would contribute to sustainable development by addressing the various impacts of climate change. The programme is intended to enhance the knowledge and skills of the students with specialist competencies in a wide range of subject areas pertaining to understanding climate change and its impact on agriculture, animal production, environment, energy, water, disasters, transport, and industries, including human health. The programme will provide a platform and professional support in conducting independent research on a wide spectrum of topics related to climate through transdisciplinary approach. The programme will prepare the students to pursue a wide range of careers such as researchers, academicians, development specialists, project and programme managers, planners, advisors, and decision makers.
Research Project: The PhD scholarship position is part of an international, collaborative research project titled: 'Successful intervention pathways for migration as adaptation (SUCCESS)' and funded under the Climate Adaptation and Resilience (CLARE) initiative by the International Development Research Centre (DRC). It is implemented by the Himalayan Centre for Environmental Humanities (HCEH), Royal Thimphu College (RTC) in Bhutan and concomitantly by the International Centre for Integrated Mountain Development (ICIMOD) and the Nepal Institute for Development Studies (NIDS) in Nepal. The successful applicant will carry out research on climate migration in Bhutan as a form of adaption and its intersections with social-ecological systems, (im) mobility, urban destinations, social protection, exclusion and marginality, well-being and equity. As part of a larger project with partners in Nepal, India, Bangladesh, and the United Kingdom, the candidate will contribute to the co-creation of interventions that will enable successful adaptations for immobile populations and adaptations where climate migration and relocation are critical.
Terms of PhD Funding: The PhD programme will commence in July 2023 with six months of course-work in CNR, Punakha. Following the successful completion of the coursework and PhD proposal defence, the candidate will be primarily based at the Himalayan Centre for Environmental Humanities (HCEH), Royal Thimphu College from where s/he carries out research in selected parts of Bhutan. The duration of the PhD programme is limited to three years. The candidate will be offered full tuition fees, a monthly stipend of Nu 30,000, research expenses, and the opportunity + funding to participate in national, regional, and international workshops and conferences.
Eligibility criteria: MA/MSc or MPhil in the social sciences, or an MA/MSc in the natural sciences but with a cultivated affinity in social science methods and approaches.
Independent judgement and academic rigor displayed in previous research
Ability to cultivate an interdisciplinary approach
Ability to formulate research questions
Ability to work within a given time frame
Methodological and scientific maturity
Ability to analyse material critically
Ability to structure one's material using social sciences concepts and methods
Ability to conduct an analysis in an original and scientific manner
Ability to carry out ethnographic methods, interviews, surveys, and reflections
Ability to cooperate and communicate with others.
Application: The application should consist of the following components:
Cover letter – describe briefly who you are and why you are motivated to become a PhD candidate in Climate Studies with specific focus on climate migration (no more than 2 pages)
CV – degrees and other completed courses, work experience (if employed) and a list of degree projects/theses
Research proposal (no more than 3 pages) describing:
- Your theoretical and conceptual understanding of climate migration
- Why and how you wish to address this research theme
- What makes you suitable for the project in question.
Undergraduate and Master's degree certificates and mark-sheets confirming that you meet the general and specific entry requirements.
Closing Date: Interested applicants may submit their online application to This email address is being protected from spambots. You need JavaScript enabled to view it. with a copy to This email address is being protected from spambots. You need JavaScript enabled to view it. by 15th April 2023.
Contact: For further information or details concerning the application procedure, please contact Dr. Sonam Tashi, Dean, Research and Industrial Linkages, College of Natural Resources, This email address is being protected from spambots. You need JavaScript enabled to view it.. For questions about the specifics of the research project, please contact Dr. Jelle J.P. Wouters, Chair, Himalayan Centre for Environmental Humanities, Royal Thimphu College, This email address is being protected from spambots. You need JavaScript enabled to view it.