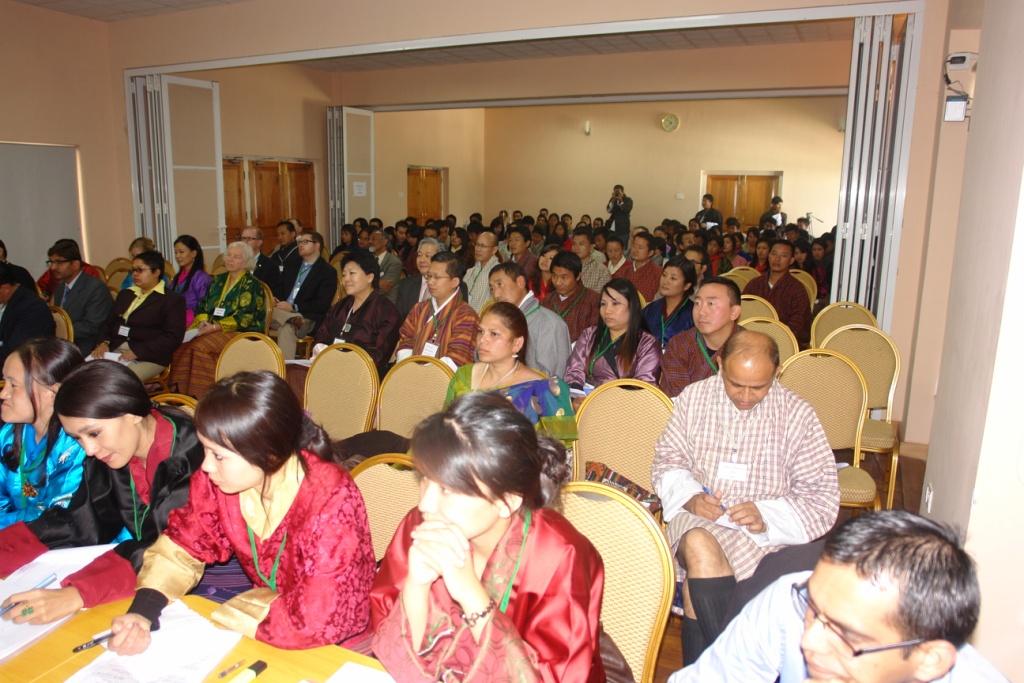 Click here for more information and full conference proceedings
October 16, 2012 - Royal Thimphu College concluded its two day international conference co-hosted by the GNH Commission and supported by UNDP, Bhutan. The topic of the conference was "Interplay of Economics, Politics, and Society for Inclusive Growth", related to the themes of the 11th five-year plan of self-sufficiency and inclusive growth. Conclusions of the academic papers presented are expected to contribute to planning process for the upcoming 11th Plan.
Tenzing Yonten, Director RTC, noted in his welcome address that the conference represents a concrete step by the college towards fulfilment of its mission to serve as a crucible for knowledge creation and service in guidance of government policies. "We enabled the presentation of a lot of diverse viewpoints that are very valuable as we look forward to contribute to discussions taking place on the planning of the 11th five-year plan. This is a learning experience for the RTC that will be important as we look to host more such events in the future. We must also ensure good follow-through and ask what do these ideas and discussions actually lead to, such as translating into some policy interventions or further studies that may inform policy makers" the Director said.
Through five technical sessions and four group discussions, participants from countries including Bhutan, India, Canada, Nepal, and Bangladesh shared views on ensuring inclusive growth that provides equal access to services, products, and capacity building for all sectors of society. Dr. Basudeb Guha Khasnobis, senior economist at UNDP Nepal, stated "The multidisciplinary approach is something that is very essential to understanding the development process as a whole". Some of the topics discussed included ways of strengthening key sectors such as agriculture, measures to stimulate entrepreneurship, and empowerment of traditionally marginalized groups such as women as youth. Professor Sanjeev Metha, the RTC faculty member in charge of the conference planning noted that agricultural decline in the country correlated with reduced government investment into the sector over the last 30 years, and that this trend should be reversed if progress is to be made towards self sufficiency.
In regards to the consequences of development, one faculty member, Dr. Samir Patel of Environmental Studies said "I find that the emphasis on growth is warranted only so long as it promotes localization and allows development to a point where poverty is alleviated, but not so much that it enables practices that could degrade the environment and compromise sustainability". The conference was also attended by UNDP and GNHC officials as well as members of various Ministries, students, and the RUB community. Dasho Pema Thinley, RUB Vice Chancellor expressed that "College is not just a place where young students come to learn but also a place where we think ideas through and contribute to society. I'm very happy that so many people from other walks of life are here - private sector, government departments, and representatives of our colleges. This is how we add value to the city of which we are part".