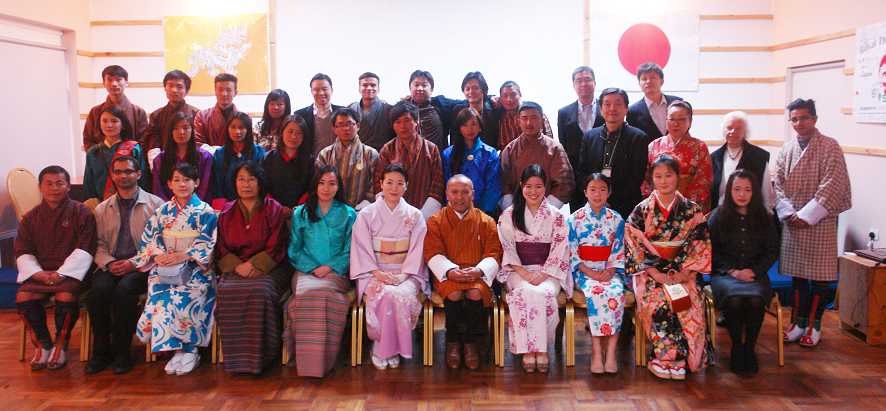 The Royal Thimphu College welcomed the 5th group of representatives from SEISA University in Japan this March. SEISA is one several educational institutes around the world with which RTC has an academic partnership. The partnership was established in 2010. Since then, selected students from RTC make a 2 week cultural visit to Japan every year. In return, RTC hosts a group from SEISA every year as well. So far, RTC has hosted around 42 individuals from SEISA. 
This year's SEISA group included 12 students and a faculty member from SEISA University. The group resided on-campus at the executive centre guest house. The group had the opportunity to talk with the President of RTC and also interact with RTC students, who provided a welcome cultural programme for them. Dr. Miwako Hosoda, Vice President of SEISA University, demonstrated the beautiful Japanese tea ceremony during the cultural programme. The group visited historical places such as the Memorial Chorten, Kuenselphodrang, and Dochula, where they had the chance to experience the purification ceremony known as lhabsa. They also visited several health intuitions such as the Jigme Dorji Wangchuck National Referral Hospital and the Faculty of Traditional Medicine.
This year the group also had the opportunity to celebrate the 30th Anniversary of the Establishment of Diplomatic Relations between Bhutan and Japan. For the celebrations, the group attended an event organized by the Ministry of Health and Ministry of Foreign Affairs at the Faculty of Traditional Medicine, where a handing-taking ceremony of 29 ambulances from Japanese government was being held. This was followed by a photo exhibition and reception at Terma Linca Resort, where the group had the chance to meet with His Excellency the Ambassador of Japan to India and Bhutan and various other senior officials and other Japanese living in Bhutan. 
This exchange programme is one of the many efforts of RTC to provide international learning opportunities for its students.