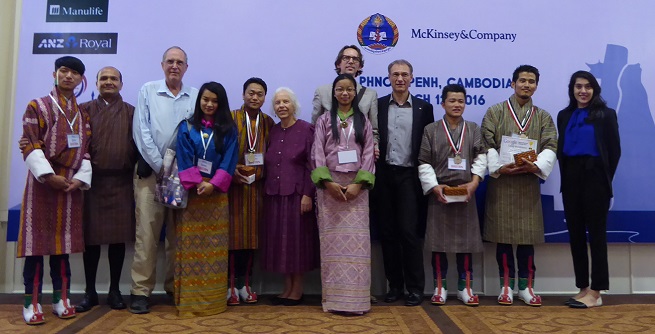 Two teams of students, representing both Royal Thimphu College and Bhutan, have won 2nd place and 4th place in the regional Mekong Business Challenge held in Cambodia on Saturday, March 12, 2016.
The Mekong Challenge is a "business model" contest, with over 100 teams from South-East Asia competing (Thailand, Cambodia, Viet Nam, Lao, China, and Bhutan for the first time this year). This is greatly different from the traditional "business idea" or "business plan" type of contest. The "business model" contest requires each competing team not only to develop an idea or plan, but also requires very extensive field work to talk with potential customers, suppliers, financing sources, potential competitors, government officials, etc.). This work was diligently accomplished by the RTC teams over the past three months after they were confirmed for round two of the competition. Each team continuously revised their initial plans and assumptions as they gained more insight and data from these sources. In this way, the process mirrored that of a real entrepreneur, who is continuously learning from, and adapting to, new information from the market.
Remarkably, two of RTC's initial three teams won in the first round of the competition in November: Bhutan Interlocking Bricks, and Menjong Pasta. Only 11 teams out of over 100 in the initial round were chosen for the second round, held in Phnom Phenn, Cambodia.
The Bhutan Interlocking Bricks team won the Silver Medal (2nd place) along with a smartphone each to the three team members, and an all-expense paid trip to Singapore, to meet with the Google office. The Menjong Pasta team came in 4th, with the jury particularly impressed by the team's serving of their actual pasta product – this received considerable appreciation for their original idea.
In light of RTC's very strong performance, officials of the Mekong Challenge are exploring the possibility of RTC being the host for next year's regional competition.
Furthermore, both teams will continue competing for a wildcard entry into a global business model competition in the USA.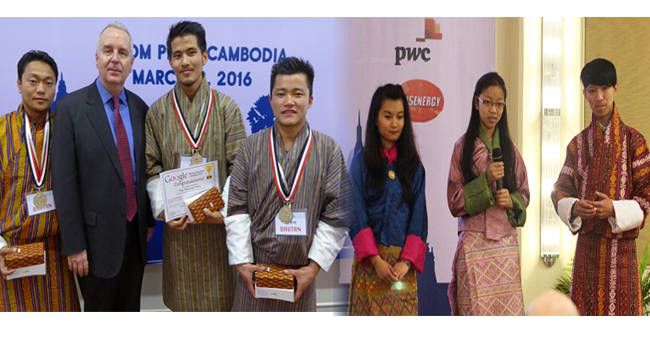 Bhutan Interlocking Bricks

RTC TV spot - 480x270 (small)  Download File
RTC TV spot - 960x540 (medium) Download File
RTC TV spot - 1920x1080 (large) Download File
Menjong Pasta 
RTC TV spot - 480x270 (small)  Download File
RTC TV spot - 960x540 (medium) Download File
RTC TV spot  - 1920x1080 (large) Download File
Bhutan Instant Puta  
RTC TV spot - 480x270 (small)  Download File
RTC TV spot - 960x540 (medium) Download File
RTC TV spot - 1920x1080 (large) Download File