Project Overview

Project Title
Furthering International Relations Capacities and Intercultural Engagement to Nurture Campus Diversity and to Support Internationalization at Home
Acronym
FRIENDS
Objectives
To outline PC HEIs' internationalization landscapes and to identify levels of integration of international and intercultural dimensions into PC HEIs' formal and informal curriculum: by April 2019.
To improve PC HEIs' capabilities for internationalization through staff trainings and by translating general awareness of the Internationalization at Home (IaH) concept into streamlined institutional policies and actions embedded in IaH Action Plans: by November 2019.
To build students' intercultural knowledge and sensitivity to cultural diversity through the introduction of Intercultural Passport virtual module into PC HEIs' elective formal curriculum: by 07.2020
To transform PC HEIs International Relations Offices (IROs) into vibrant multicultural focal points through the establishment of FRIENDS Teahouses and the induction of Home away from Home Programme for integrated international student care: by February 2021.
To promote virtual mobility and campus diversity across the 5 PCs as key tools for students' global competence development: by November 2021.
Project Number
598652-EPP-1-2018-1-BG-EPPKA2-CBHE-JP
Grant Awarded (Euros)
999,626.00
Project Period
2018 to 2021
Project Website
FRIENDS Newsletter and Brochure
Home Away From Home (HAFH)
Guidelines HAFH International Care & Support - ENGLISH
Guidelines HAFH International Care & Support - DZONGKHA
Intercultural Awareness and Cultural Diversity Online Course (MOOC)
RTC-FRIENDS Teahouse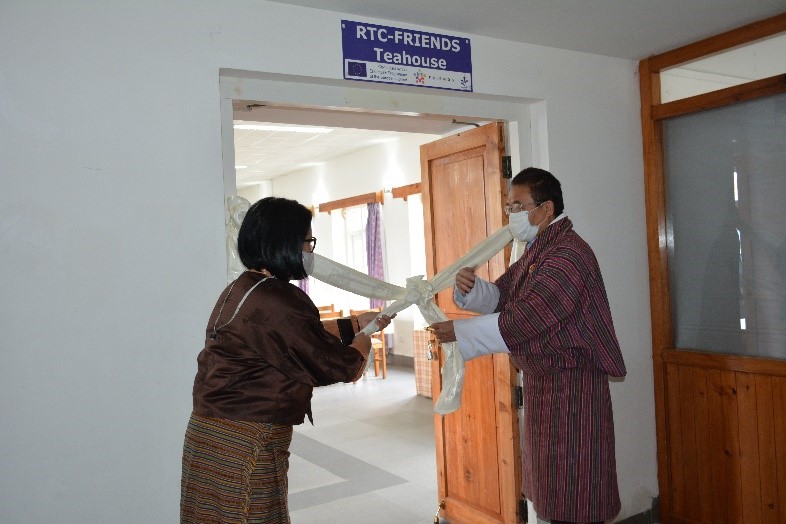 Royal Thimphu College, as part of the FRIENDS project co-funded by the ERASMUS+ programme of the European Union, inaugurated a teahouse on campus on 10th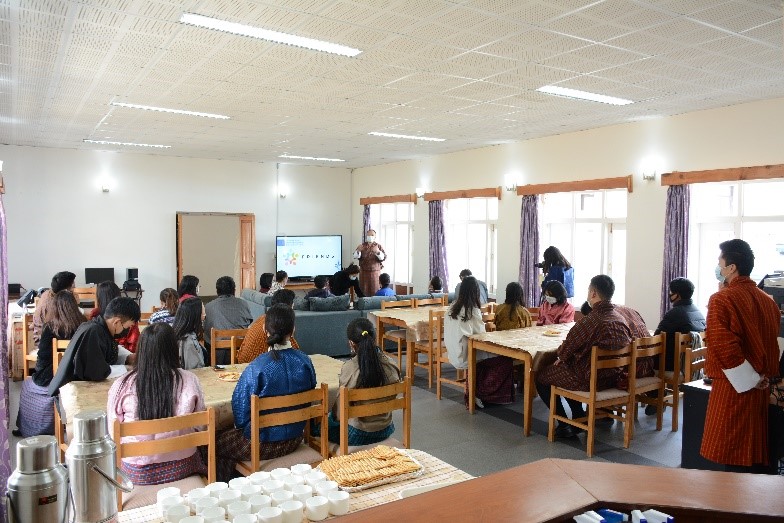 March, 2021. Towards promoting and nurturing an inclusive and multicultural environment on campus, the Teahouse has been established with the vision to serve as a hub for students from all backgrounds and cultures to interact and share intercultural experiences.
Aside from a dining area, the Teahouse is fitted with a lounge and a 65-inch smart TV appropriate for hangouts, team meetings and presentations. The facility also houses desktops and a multifunction printer along with a stable Wi-Fi connection.

FRIENDS Project Partners
| Partner Institution | Country | City |
| --- | --- | --- |
| VARNA UNIVERSITY OF MANAGEMENT | BULGARIA | VARNA |
| ASIA PACIFIC UNIVERSITY SDN BHD | MALAYSIA | KUALA LUMPUR |
| BERJAYA HIGHER EDUCATION SDN. BHD. | MALAYSIA | KUALA LUMPUR |
| BUDAPESTI METROPOLITAN EGYETEM | HUNGARY | BUDAPEST |
| CEBU TECHNOLOGICAL UNIVERSITY ARGADCEBU CAMPUS | PHILIPPINES | CEBU CITY |
| DEWEY INTERNATIONAL UNIVERSITY | CAMBODIA | BATTAMBANG |
| ISTANBUL AYDIN UNIVERSITESI VAKFI | TURKEY | KUCUKCEKMECE ISTANBUL |
| MAHASARAKHAM UNIVERSITY | THAILAND | MAHA SARAKHAM |
| PAYAP UNIVERSITY | THAILAND | CHIANG MAI |
| POLITECHNIKA SLASKA | POLAND | GLIWICE |
| PRINCE OF SONGKLA UNIVERSITY | THAILAND | HAT YAI |
| ROYAL INSTITUTE OF MANAGEMENT | BHUTAN | THIMPHU |
| ROYAL THIMPHU COLLEGE | BHUTAN | THIMPHU |
| SAINT LOUIS COLLEGE, INCORPORATED | PHILIPPINES | BAGUIO CITY |
| SVAY RIENG UNIVERSITY | CAMBODIA | SVAY RIENG |
| UNIVERSITY OF CEBU, INC | PHILIPPINES | CEBU |
FRIENDS Equipment Contract Awards
Contact (Project Coordinator)
International Cooperation Department
Varna University of Management
This email address is being protected from spambots. You need JavaScript enabled to view it.
Contact (RTC Partner)
International Relations Office
Royal Thimphu College
This email address is being protected from spambots. You need JavaScript enabled to view it.