Career Counseling
Starting in the College's third year as students approach graduation and careers, staff members in the career office will assist students with a host of career-related activities. They will help students choose a career focus, research employers, put together a professional resume and cover letter, and practice for job interviews. As part of the academic program, the College will also build linkages, such as internships, with potential employers and encourage on-campus recruiting activities.
Personal Counseling
RTC provides students with a close-knit community to support their personal, social, and intellectual development. The College's small size is an important advantage in this regard, as it is conducive to providing individual students with the staff's personal attention. The counseling service aims to encourage academic success by helping students deal with stress or anxiety caused by study pressures, as well as personal or family problems. The full-time College Counselor, who has an MSc in Counseling, meets privately with students requesting a consultation. RTC's favorable staff-to-student ratio combined with its emphasis on personal development means that staff is readily available to assist students with academic, emotional, physical, or practical problems that may arise.
Health Services
The Health Assistant is available to assist students with everyday medical problems. Students who suffer from any specific or chronic disease should bring their prescribed medicines and should inform the Health Assistant in advance about their health problems so that timely and proper care can be given. Students experiencing more serious medical problems will be referred to the Thimphu National Referral Hospital which is only 15 minutes away.
Library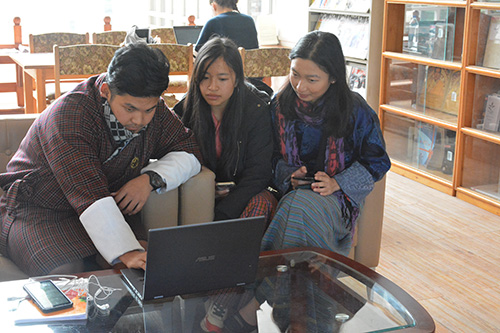 The RTC library has an ever-growing collection of books, periodicals, and media materials available to all students, faculty, and staff of the College. The library also helps provide access to four full-text databases
of scholarly and scientific articles. The library staffs provide a range of library services, including comprehensive reference and research assistance and library instruction.
Selected RTC students are provided employment opportunities as Library Assistants. The library is open from 8.30 am-9 pm on weekdays, 8:30 am-5 pm on Saturdays, and 5 pm-9 pm on Sundays.
Browse the library's Online Public Access Catalog (OPAC).
IT Lab
RTC has three fully equipped computer labs with about 150 student computers. Internet connectivity is through a high capacity of 55 Mbps leased line. Wi-Fi connectivity is available throughout the campus so that students have the convenience of using their personal laptops from their dorms or in quiet places elsewhere on campus.
The IT Lab is open 8:30 am-8 pm on weekdays and 8:30 am-5 pm on Saturdays and 2 pm-5 pm on Sundays.