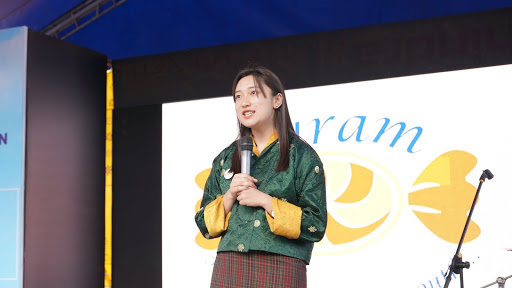 Phuntshok Dechen Yangchen is a third-year student studying Bachelor of Commerce, majoring in Finance at Royal Thimphu College. She is also the co-founder of Guram, a candy making business that Phuntshok and two of her friends who are RTC graduates, Depshika Chhetri and Tashi Dargay, started in December 2017. Guram was started with the vision and mission to reduce dependency on imports of candies and increase self-sufficiency. The initial success of the business began with pitching their idea at the Mekong Business Challenge in 2018, where they were the runners up. Their goal after the competition was to keep making product improvements.
This year, during the Druk Tshongrig Gatoen, Bhutan's first festival to promote and celebrate social entrepreneurship, intelligent businesses, and young entrepreneurs organized by Loden Foundation, Phuntshok applied for the Student Entrepreneurship award. After getting through the preliminary round, she was chosen to give a brief presentation about her business idea and share her journey as a student entrepreneur at the Thimphu Clock Tower in front of a large audience on October 19, 2019. There were three other students from different colleges pitching their business ideas.
In Phuntshok's words, "This pitch was one of the most exciting yet one of the most nerve wracking experiences that I ever had. It was a great honor to represent RTC and my business in this platform."
During the award ceremony on October 20 2019 at the Royal University of Bhutan, Phuntshok was accompanied by her mentor, Mr. Madhav Verma (Business Studies Programme Leader, RTC) where she won the Best Student Entrepreneur of the year.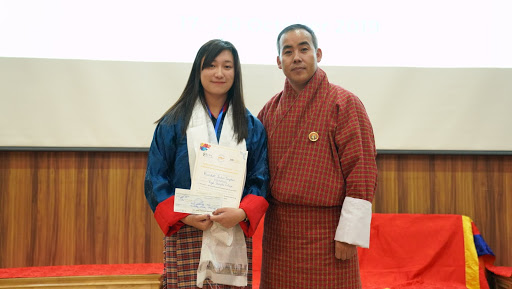 "To be honest, I did not expect to win but there was a little glimmer of hope within me. I was beyond happy. It was an unexplainable feeling, I felt that all my hard work finally paid off," she said.
She won a prize of Nu. 50,000, which she plans to invest in her business and is looking forward to represent Bhutan at Global Student Entrepreneur Award in Cape Town, South Africa, supported by Global Student Entrepreneur Awards (GSEA) in March 2020.