Mekong Business Challenge is an entrepreneurship competition for university students promoting entrepreneurship and business incubation in the Mekong region. This year's competition was scheduled to be held in Cambodia on 14th March but given the current global pandemic situation, it was held virtually for the first time in the 14 years of its founding. RTC first participated in the Mekong Business Challenge in 2016 and has seen repeated success since the beginning, including winning the top prize in 2018.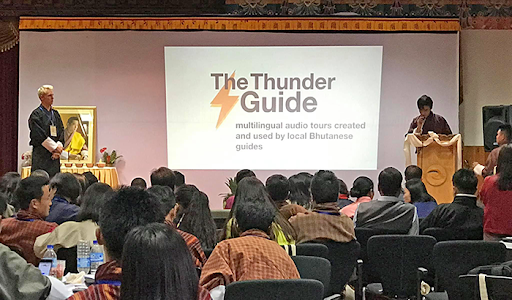 A team of three RTC students took part in the competition this year supervised by Mr. Gagan Mongar (Faculty of Business Studies). Third-year students, Sangay Kunchok pursuing BBA (General Management), Ugyen Chozom pursuing BCom (Finance) and Sunny Rasaily pursuing BBA (Marketing) designed an audio guide tour app that displays all the cultural sites of Bhutan in multiple languages and has been aptly named as "Thunder Guide" to align with the 'Land of the Thunder Dragon'. The first prototype application contains four languages, namely German, French, Vietnamese, and Chinese (Mandarin and Cantonese), and currently covers 9 different cultural sites at Paro, Thimphu, and Punakha.
"It came to us as a disappointment and also as an opportunity. The disappointment was that we could not go to Cambodia for the competition, where we were hoping to meet the international Judges and fellow competitors which would have served as a huge gain of experience and social networking. The opportunity was the competition being an online PPT voice over, it had eliminated a lot of pressure, we could work on the presentation till we got the desired outcome", said Sunny. 
The team came 2nd in the competition winning a cash prize of $3,000 USD, which they want to invest in launching the app in the market. A total of 11 university teams competed in the region's business model competition including teams from Cambodia, Myanmar, Laos, Thailand, and Vietnam. "I am so happy that our one year's worth of hard work is finally rewarded. Without the endless support from Mr. Gagan and the college, this wouldn't have been possible. We would also like to thank Oscar Gue, who was an exchange student at RTC for equally contributing to the business project throughout his stay at the College", said Ugyen.
"I thank my college for giving me the opportunity to learn outside the context of our books and classroom. I want to reassure and say that I am continuing to work on this business model to launch it as soon as our economy and tourism sector is back on", said Sangay.