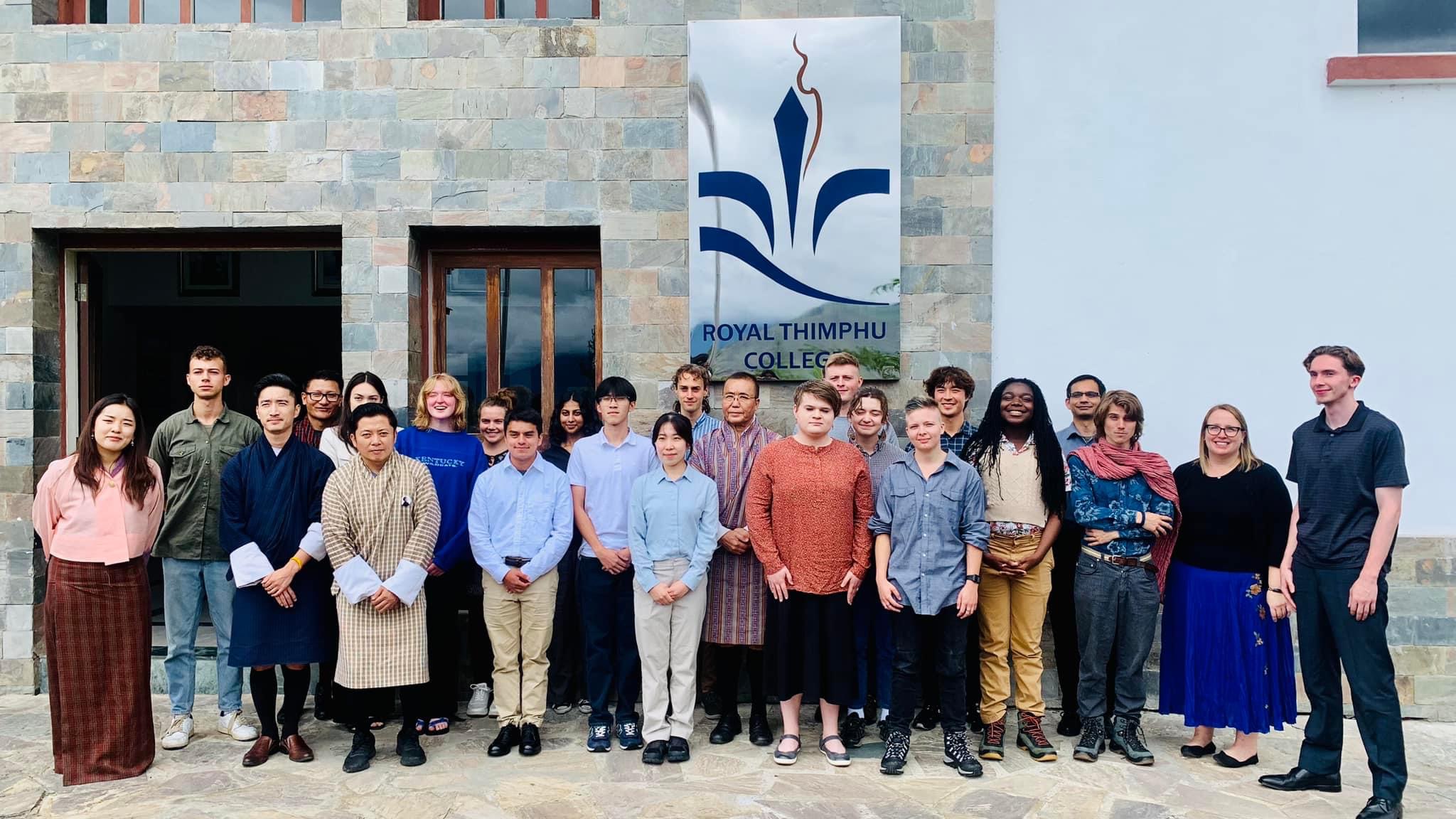 RTC welcomes international students! The College believes that a multicultural environment contributes to the breadth of opportunities for all students, and is a substantial benefit for everyone in terms of cross-cultural learning. International students are encouraged to play an active part in college life and to take full advantage of the academic and social facilities available. Bhutan is a peaceful and stable country, renowned for its pristine environment and breathtaking scenery. RTC students enjoy a tranquil yet well-equipped campus, an ideal setting in which to pursue higher education learning in security and without disruption. Thimphu's climate is typically pleasant for the 9 months of the year during the academic semesters. The campus is a 25 min drive from the Thimphu city centre and only one hour from Paro international airport.
Once you arrive, our academic and administrative staff will do all they can to help you settle in. Comfortable accommodation is available on campus. All the necessary services for daily academic life are also available to all students. Social activities and excursions are also frequently organized.
Enrollment Options for International Students
Contact us early if you are interested in credited short-term, semester abroad, gap year, or degree studies! For more information, please e-mail RTC International Relations (This email address is being protected from spambots. You need JavaScript enabled to view it.).
For full-degree enrollment in RTC's 3-yr and 4-yr degree programmes, the admission process and requirements for international students are the same as for Bhutanese students. We select for academic ability and academic potential, as judged by secondary school results (examination results), a personal statement, an English-language interview, and if required for the subject, admissions test or written work. Once admission has been granted, the College will assist with visa formalities and any other aspect of preparing to study at RTC. There are limited numbers of seats for our various degree programmes. Interested applicants are requested to apply early to secure seats for programmes of their choice. You can apply to RTC by e-mail.
Semester study-abroad and exchange programmes are available for existing college students studying in degree programmes at universities around the world. Students come through their own arrangements made in agreement with the sending institution and RTC, through our partner universities, or through programmes such as Erasmus+ (for EU students), Wheaton-in-Bhutan or API (for US students).
Short-term credited programmes are faculty-led programmes of 2-5 weeks duration and arranged through inter-institutional partnerships.
Subject areas of study at RTC include Anthropology, Business, Development Economics, English, Environmental Management, Mass Communication, Nursing, Political Science, and Sociology.
International Institutional Linkages
Royal Thimphu College is host to the award-winning study-abroad program "Wheaton in Bhutan" conducted in partnership with Wheaton College, Massachusetts, USA.
Additionally, student exchanges regularly occur as a part of the academic partnership between the Royal Thimphu College and SEISA University of Japan, and with Pitzer College, California, USA.
RTC currently has international partnerships with:
USA

Wheaton College, Massachusetts
Texas A&M, Kingsville, Texas
Pitzer College, California
The University of California, Davis, California
The University of Oklahoma, Norman, Oklahoma
Middlebury Institute of International Studies, Monterey, California
Linfield College, Oregon
Westminster College, Utah
University of Idaho
Centre College, Kentucky
Academic Programs International (API), Texas

Canada

Quest University, Squamish, British Columbia

Japan

SEISA group
Kyoto University, Kokoro Research Centre
Kansai University
University of Fukui
Osaka University of Economics and Law

Australia

Edith Cowan University
Murdoch University
University of New England
Southern Cross University

Nepal

ICIMOD
Kathmandu University
Tribhuvan University

India

Sikkim University
TERI University

Indonesia

EU

Szent Istyan University, Hungary
Eötvös Loránd University, Hungary
University of South Bohemia, Czech Republic
Metropolitan University of Prague, Czech Republic
Palacky University in Olomouc, Czech Republic
Thomas Bata University, Czech Republic
University of Warmia and Mazury in Olsztyn, Poland
WSB Poznan, Poland
WSPA Lublin, Poland
Vilniaus Kolegija University of Applied Sciences, Lithuania
CEFAM International School of Business and Management, Lyon, France
University of Koblenz, RheinAhrCampus, Germany
SRH University Heidelberg, Germany
Ravensburg University of Cooperative Education, Germany
HWZ Zurich University of Applied Sciences in Business Administration, Switzerland
University of Cadiz, Spain
University of Huelva, Spain
University of Oviedo, Spain
EASD Vitoria, Spain
Universitat Autonoma de Barcelona, Spain
University of Beira Interior, Covilhã, Portugal
University of Liechtenstein
Vrije University, Amsterdam, Netherlands
VIVES University of Applied Sciences, Belgium
Polytechnic in Pozega, Croatia
Vasile Goldis Western University of Arad, Romania
Varna University of Management, Bulgaria
Tartu University, Estonia
Ljubljana School of Business, Slovenia
RTC hopes to keep expanding such collaborations so as to provide enriching opportunities for both Bhutanese and international students. Institutions interested in pursuing linkages with RTC may contact This email address is being protected from spambots. You need JavaScript enabled to view it. or visit the link (https://global.rtc.bt/) for further information.