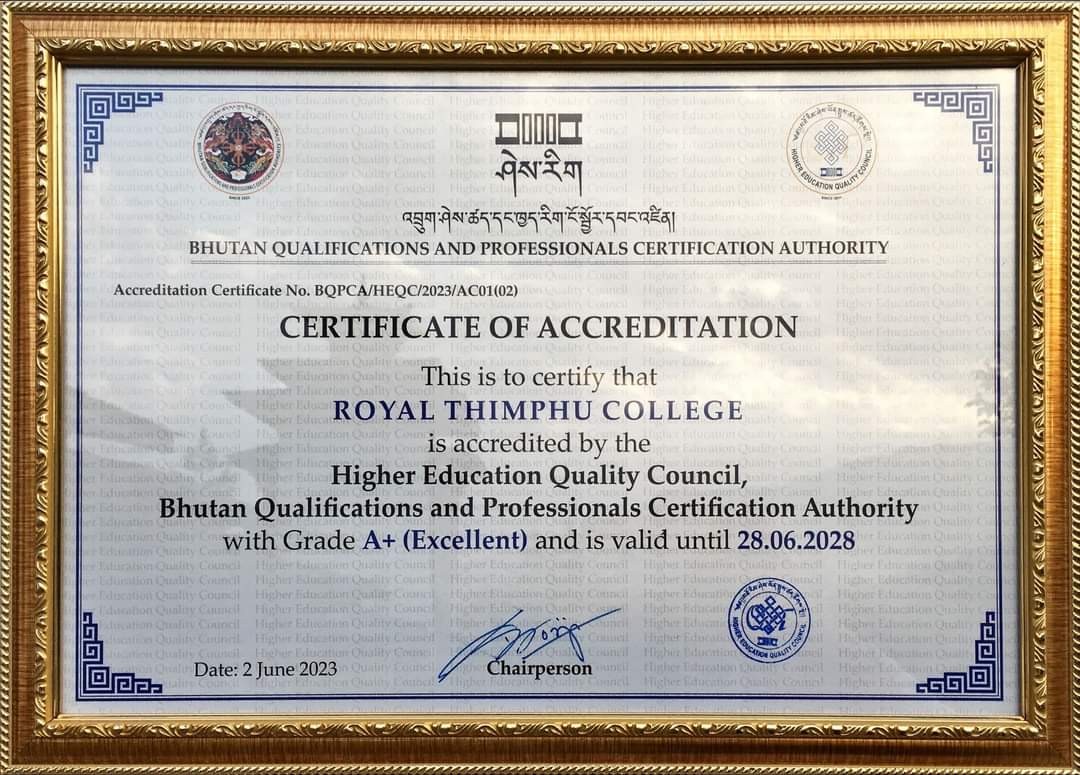 On June 02, 2023, Royal Thimphu College was re-accredited by the Higher Education Quality Council, Bhutan Qualifications and Professionals Certification Authority (BQPCA) again with an A+ rating, the highest mark of Excellence. Royal Thimphu College became the first A+ accredited college in the country on June 29, 2016, approximately seven years after its foundation as the first private undergraduate college in Bhutan.
After remaining as the only A+ accredited college in Bhutan for seven years, Royal Thimphu College has been re-accredited again with an A+ rating by BQPCA. The accreditation process involved RTC's submission of a lengthy and detailed report on its activities and accomplishments for the accreditation team's use as well as a four-day visit by the team to the College during which it observed classes, met with the management, faculty members
and staff, inspected the infrastructure, talked with students, and scrutinized a voluminous set of documents supporting the report as well as providing additional information on all aspects of the college's functioning and achievements.
As provided under Section 25 of the Civil Service Reform Act of Bhutan 2022 and the RCSC's reorganization order, the office of the BQPCA was established on January 09, 2023. The BQPCA, affiliated with the Ministry of Education and Skills Development (MoESD), is the competent authority for qualification accreditation, professional certification, and national qualifications framework in the country. It is also responsible for monitoring the quality of education and training, awarding and recognition of qualifications in the country, and certifying and monitoring the practice of the professionals.
Accreditation is a tool used around the world to assure quality as well as to protect the public by providing valuable information about the quality of educational institutions. Consistent with international practice, the BQPCA's accreditation process is a detailed independent assessment of an educational institution's curriculum, infrastructure, learning resources, governance, research and institutional linkages, student services, and internal quality assurance system. The accreditation process also includes issues such as the quality of the institution's faculty and the effectiveness of the education provided to the institution's students as indicated by such things as their performance on national exams, their placement in jobs, and other forms of external recognition achieved.

This monumental achievement of the certificate conferred by the Hon'ble MoESD Acting Secretary, on the special day that also marked His Majesty the 4th Druk Gyalpo's Coronation Day and Social Forestry Day, was a testament to the unwavering dedication, perseverance, and collective strength of our whole RTC community. From our devoted staff and faculty members to our wonderful students and families, to the wider community of partners and scholarship sponsors, every single one of us played a crucial role in this success story. Together, we can keep making a difference, one day at a time. Thank you for being part of this extraordinary family, and let's keep soaring to new heights together!